Indigenous youth art competition launched across North Queensland
Published 03 June 2021
Young and upcoming local Indigenous artists are invited to enter the fourth annual NQPHN Indigenous Youth Art Competition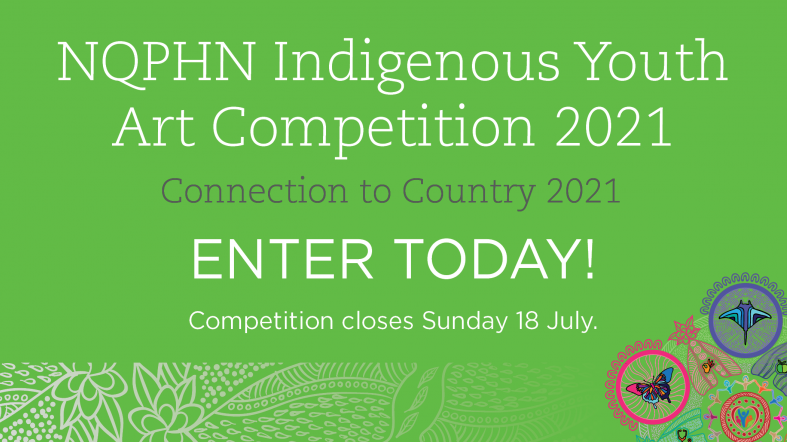 Northern Queensland Primary Health Network (NQPHN) has today launched the NQPHN Indigenous Youth Art Competition 2021 with the theme of Connection to Country.
This year the competition will run for six weeks and judging will include two age-based categories; a junior competition for entrants aged 12 to 14 years old and a senior competition for entrants aged 15 to 18 years old.
The competition coincides with two significant events on the National Indigenous calendar – National Reconciliation Week (27 May to 3 June) and NAIDOC Week (4-11 July).
The competition provides young Aboriginal and/or Torres Strait Islander artists with the opportunity to showcase their talents and celebrate and embrace their culture through art.
The winning entries will display strong, imaginative Indigenous artworks that convey the competition theme of Connection to Country.
Prizes are up for grabs for both competition categories and include:
first prize is an Apple iPad Pro 11" 128GB Wi-Fi and Apple Pencil, valued at $1,398
second prize is a $500 gift voucher for art supplies
third prize is a $250 gift voucher for art supplies.
NQPHN Board Chair Nick Loukas said the NQPHN Board created this initiative four years ago as an excellent opportunity to recognise young Indigenous artists across North Queensland.
"NQPHN is committed to connecting with and improving the health and wellbeing of Aboriginal and Torres Strait Islander peoples within our region," Mr Loukas said.
"This competition was established to celebrate and highlight the vast talent and creativity of young Aboriginal and/or Torres Strait Islanders in our communities throughout North Queensland, that could otherwise fly under the radar.
"It provides a means to which they can express and share their culture and stories with the community, and to demonstrate how important their culture is to living a happier, healthier, longer life."
NQPHN Chief Executive Officer Robin Whyte described the competition as a wonderful opportunity that builds the self-esteem of Indigenous artists, helping to develop their confidence and involvement in sharing their cultural stories through art.
"The competition is part of NQPHN's commitment to support Indigenous youth, and a meaningful pathway towards inclusion of our Aboriginal and Torres Strait Islander communities," said Ms Whyte.
"This year we are looking for artworks that reflect the theme of Connection to Country and how that includes ties with culture and kin to promote good health and wellbeing in life, family, and community for Aboriginal and/or Torres Strait Islander peoples.
"We were blown away by the quality of artworks submitted in last year's competition and we are looking forward to seeing the creativity and talent of this year's entrants.
"We are really excited to see how young artists will connect with and interpret this year's theme and look forward to hearing about their Connection to Country."
The closing date for submissions is Sunday 18 July at 11.59pm. Winners will be announced in the last week of July (26–30 July 2021).
To be eligible to enter the competition, entrants must be between the ages of 12–18 years and reside in the NQPHN region – between Sarina in the south, west to Croydon and Kowanyama, and up to the northernmost point of the Torres Strait Islands.
To find out more information about the art competition and to submit an entry, visit www.nqphn.com.au/community-member/indigenous-youth-art-competition
Last updated: 03 June 2021
Search form