Community consultations for lived experience of suicide
Published 20 April 2021
Do you live in Cairns, Innisfail, Ravenshoe, Mareeba, or Mossman and have a lived experience of suicidal crisis or attempt, caring for someone through a suicide crisis, or bereaved by suicide? We want to hear from you!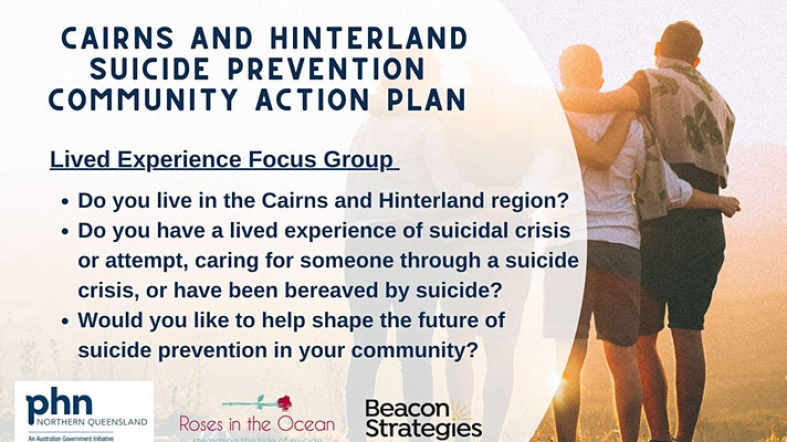 Northern Queensland Primary Health Network (NQPHN), in partnership with Beacon Strategies and Roses in the Ocean, is inviting people with a lived experience of suicide in the Cairns and Hinterland region to participate in focus group sessions.
Within these facilitated workshops, we will explore your priorities, ideas, and suggestions for suicide prevention within local communities. Your contributions will directly inform the development of the new Cairns and Hinterland Suicide Prevention Community Action Plan (SPCAP).
Sessions will be held 27th to 30th April across the Cairns and Hinterland region, including:
27 April: Cairns (North and South)
28 April: Innisfail
29 April: Ravenshoe and Mareeba
30 April: Mossman
Click here to register today!
Note: if you are unable to attend you can also provide your insights via survey by heading to: www.surveymonkey.com/r/cairns-spcap-survey
Last updated: 20 April 2021
Search form