Our Region, Our People: Meet Emma
Published 01 October 2020
Student-led community rehabilitation and lifestyle service in Cape York.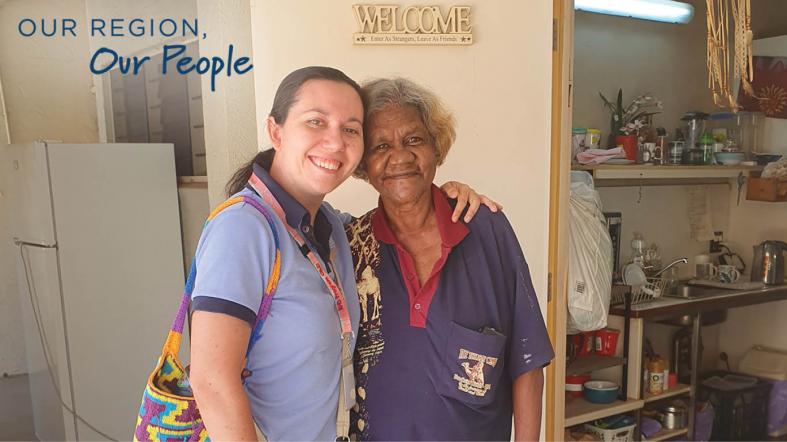 James Cook University (JCU) fourth-year Occupational Therapy student Emma Sarovich is passionate about making a difference to the wellbeing of Aboriginal and Torres Strait Islanders in North Queensland, and it is through a student led community rehabilitation and lifestyle service in Cape York where Emma is leaving a positive mark.
The service, facilitated by JCU in collaboration with Northern Queensland Primary Health Network (NQPHN), engages allied health students on clinical placements to deliver sustainable individual and group rehabilitation in remote communities.
In late 2019, Emma travelled to Weipa and Napranum to participate in the service on a seven week placement as part of her degree, staying an additional week to collect data for her associated honours research project based on how First Nations residents benefit from participating in culturally appropriate, safe, and relevant services.
"These services can go a long way in terms of closing the gap and promoting the most positive health and wellbeing outcomes for participants," Emma said.
"I really believe that other communities would certainly benefit from a similar service."
The service provides an opportunity for allied health clinicians, Indigenous rehabilitation assistants, and students to extend much needed physical, emotional, and social support to individuals, particularly older people to support healthy ageing in community.
It also provides upskilling opportunities to existing staff, while students gain valuable experience learning directly from clients about disability and disease, community, communication, and culture.
"The functional gains are one thing, but the psycho emotional wellbeing component of the program was where I saw the most impact, which was reflected in the interviews that I conducted with the participants for my research," said Emma.
Emma recalls one client in particular, a Tjungndji woman called Zoe, who experienced a stroke 15 years ago which left her unable to use one arm.
Consequently, she missed out on activities she enjoyed. Emma worked one-on-one with Zoe and found that Zoe loved crocheting and beading.
"I made a little piece of assisted technology that allowed Zoe to crochet one-handed, then taught her how to use it for basic crocheting," Emma said.
"Zoe got this real sense of achievement and connection to an activity that was meaningful to her and that gave her independence.
"It formed a mutual trust and respect between us. I was primarily leading the group activities, and because she had that positive relationship with me, she was then engaging in the group activities more, whereas she wasn't prior to that."
In her interviews with participants after her placement in Weipa, Emma was pleased to find that participants enjoyed being a part of the service.
"It was basically all positive feedback that I received. There is a really positive environment where people get along well, they chat to each other, and they sit down and have a yarn. It was an overall positive experience for the participants," Emma said.
The success of the program will see the student-led service model expanded further north to provide allied health support services to Mapoon residents, helping them to live happier, healthier, longer lives.
Last updated: 16 November 2020
CONTACT US
Have your say
As part of our quality system, a feedback process has been introduced to enable us to better understand what we are doing well and what we can improve.
Search form