Our Region, Our People: Meet Ciolla
Published 16 November 2020
Aboriginal and Torres Strait Islander youth 'Break It Down' for personal empowerment and mental wellbeing.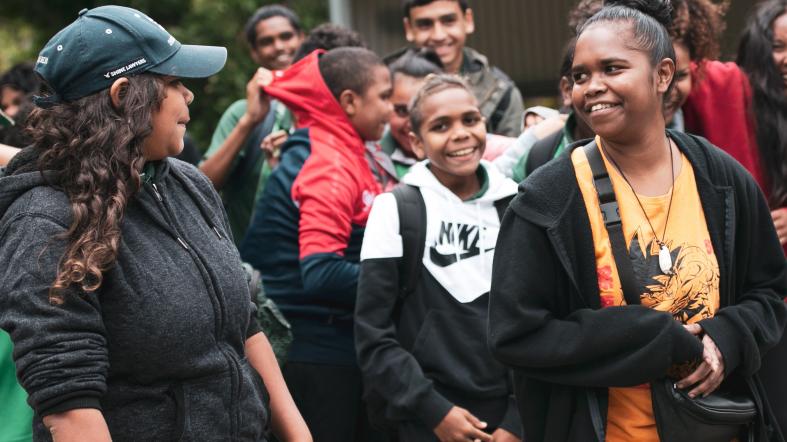 Disengaged Aboriginal and Torres Strait Islander young people in North Queensland have been given the opportunity to showcase their talents and break down the stigma around mental health through the 'Break It Down' project. 
Delivered by Desert Pea Media (DPM) and funded by Northern Queensland Primary Health Network (NQPHN), the project delivered mental health literacy to five North Queensland communities – Kuranda, Palm Island, Bowen, Thursday Island, and Lockhart River.
The project facilitated inter-generational conversations to break down stigma around mental health, grief and trauma, substance addiction, and encouraged positive social change in a safe, culturally appropriate, and positive environment.
Delivered over five days in each location, the program used song writing and video production workshops as a pathway to encourage participants to use their voice, connect with their cultural identity, and to raise awareness of the importance of improving and achieving positive health outcomes.
The first location visited during the project was Kuranda. Families within the community were experiencing conflict which was negatively affecting the mental health of young people in the community. 
Ciolla Riley, a participant in Kuranda, was identified by DPM for her potential to engage and support others and was invited to assist in the facilitation of the program as a mentor in two other communities.
On Palm Island and Thursday Island, Ciolla applied her first-hand understanding and experience to build connections with other participants, provide support, and empower them to yarn, share, and grow.
"I went to Palm Island and Thursday Island as a mentor and it felt really deadly to be a part of and to know that videos and positivity was something that I helped to create," said Ciolla.
"I got to be a part of building up the participants' confidence during the filming and encouraged them to use their voice. I hope I achieved that in some sort of way.
"I put myself out of my comfort zone and I felt like I was leading something really special.
"I could see the other kids were feeling really proud of what they were creating - a really different kind of proud feeling, you know?" 
Since participating in the Break It Down project, Ciolla has returned to her community where she continues to be a strong role model and is proud 
of her responsibility to her friends, family, 
and community. 
By bringing together young people through the Break It Down project, the Kuranda community has been able to start their healing process and journey towards living happier, healthier, longer lives. 
Community members have had additional open discussions around mental health issues, with disclosures of mental illnesses being referred to appropriate services and supports so the individual could receive the right care, at the right place, at the right time. 
Three of the five music and film productions produced by Desert Pea Media as part of this project were announced as National Indigenous Music Awards 2020 finalists in the category of Community Clip of the Year, with the video from Kuranda, 'Djabuganydji Bama' taking first prize. 
Last updated: 16 November 2020
Search form