Our Region, Our People: Meet Dr Chris Gill
Published 01 September 2020
North Queenslanders are used to surviving emergencies, whether it be fires, floods, or cyclones. For Whitsunday-based GP Dr Chris Gill, the opportunity to help the community fight a once-in-a-lifetime pandemic was too good to pass up.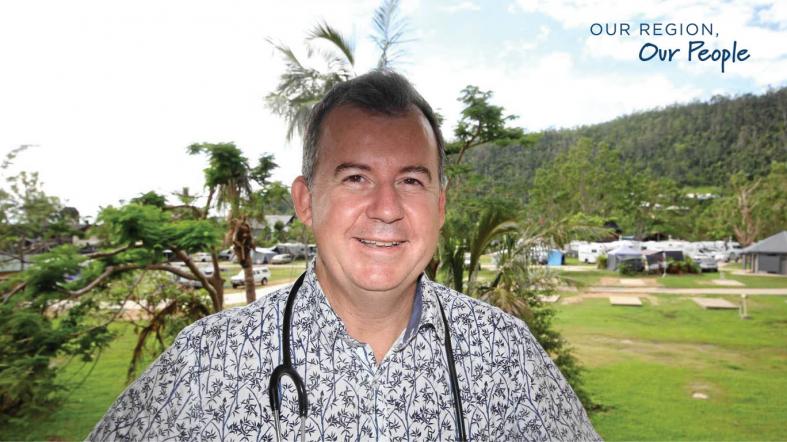 In February 2020, Dr Gill was putting the finishing touches to the official opening of his first general practice – Affinity Family Medical – when Prime Minister Scott Morrison confirmed the coronavirus (COVID-19) outbreak would become a pandemic.
This led to an immediate opportunity for Dr Gill and his team to work with NQPHN on the establishment of the Whitsunday Respiratory Clinic, located close to his newly-opened practice in Cannonvale.
The respiratory clinic is funded by the Australian Government to assess, test (if needed), and treat North Queensland residents who experience mild to moderate COVID-19 symptoms.
Dr Gill, who has lived in North Queensland with his family for almost 20 years, is passionate about protecting the health of the wider community.
"Like everyone else, we saw COVID-19 unfolding on our TV screens, in Europe, China, and North America, and I knew it was going to hit us," said Dr Gill.
"The virus has its own agenda, it will move with people as the borders open and we need to be ready.
"To run the Whitsunday Respiratory Clinic was the perfect opportunity as our clinic is GP-led, utilising experienced GPs and nurses, and we're locals - we get the rural context which makes a difference."
Dr Gill, a former remote area nurse, has had a varied medical career, working in Cape York, Arnhem Land, and the Kimberley, and gaining his clinical qualifications through the rural generalist pathway.
He was proud that the Whitsunday Respiratory Clinic was one of more than 100 respiratory clinics set up around Australia to fight COVID-19.
"The whole idea of GP-led respiratory clinics isn't just about getting a swab, but assessing respiratory function in any with mild to moderate symptoms - they could have pneumonia, asthma, or heart failure - it's our job to look after them," Dr Gill said.
"As well as testing for COVID-19, every week at the respiratory clinic we're seeing children and adults with pneumonia and asthma or even heart failure, and starting treatment to take the pressure off the hospital system and other GPs.
"At the respiratory clinic, we're able to see people with mild and moderate symptoms, and in some cases we've transferred people to hospital because they're very sick, but we're doing it in a safe way and protecting our patients, staff, and GP colleagues who are sending them to us.
"If we can detect COVID-19 early on, then that's what it's all about. We can start that early surveillance, and help with contact tracing, and therefore minimise the impact of the virus.
"It's been completely unchartered territory for us, but I think we're meeting the brief set out to us by the Australian Government. We're glad to be a part of the response efforts."
Dr Gill said Whitsunday Respiratory Clinic's main aim is to provide people with access to face-to-face primary health care, so that their respiratory symptoms can be assessed and treated, and if needed, be tested for COVID-19.
"This is our town, and whether they're locals or tourists, we want to provide a service that's safe for the Whitsundays – that's what we're about."
Last updated: 16 November 2020
CONTACT US
Have your say
As part of our quality system, a feedback process has been introduced to enable us to better understand what we are doing well and what we can improve.
Search form