Our Region, Our People: Meet Adriel
Published 11 June 2018
Helping suicide prevention in Townsville.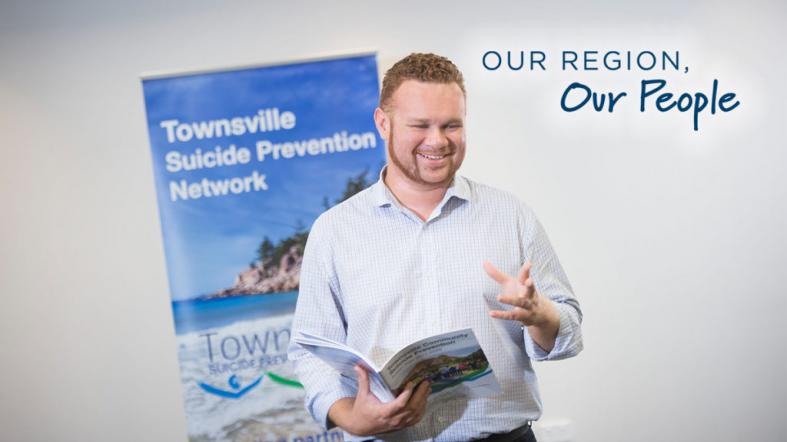 The people of Townsville have long been concerned about the growing impact of suicide in their community.
The effects of suicide are far-reaching and can impact family, friends, and colleagues.
Local opportunities to influence decision making and to share personal experiences with suicide have been limited… until now.
With the help of Northern Queensland Primary Health Network (NQPHN), the Townsville Suicide Prevention Network formed the Lived Experience Reference Group and Lived Experience training to provide a platform for members to come together to discuss and advance issues of concern relating to suicide prevention, intervention, and postvention.
Adriel Burley is a member of the Townsville Suicide Prevention Network and is passionately working collaboratively towards lowering the rate of suicide in North Queensland and raising awareness within the community.
Initially, participants from Cairns and Mackay were invited to join the Lived Experience training in Townsville, where a screening process was conducted to safeguard participants' self-care and preparedness.
"Almost 150 members of the public chose to participate in the intervention training, and local businesses became involved in fundraising to ensure the training was equitable and accessible," said Adriel.
"Together, people with personal experiences, intervention carers, and bereaved persons provided invaluable insight that allowed for healing and recovery through translating experience in aspects of lived experience advocacy."
Following on from the training, mentoring and social connections are continued regularly through the Lived Experience Reference Group.
Crisis intervention, follow-up care, and support, training and education were seen as important components in any evidence-based suicide prevention strategy.
The efforts of the Townsville Suicide Prevention Network have been recognised throughout the Townsville community and throughout Queensland.
"The Townsville Suicide Prevention Network is an organisation bringing our community together on a journey to help recognise those who need help and ultimately reduce rates of suicide in our community," Member for Thuringowa Aaron Harper said.
"I know this because of my previous career as a paramedic. Not only have I responded to countless suicide attempts and, sadly, those who have succeeded, but I have also lost some good mates in the Ambulance Service along the way. That is why I commend, and I am determined to work with, the Townsville Suicide Prevention Network."
Last updated: 16 November 2020
Search form