NQPHN launches Reconciliation Action Plan
Published 13 November 2020
Primary health organisation committed to improving the wellbeing of Indigenous communities in North Queensland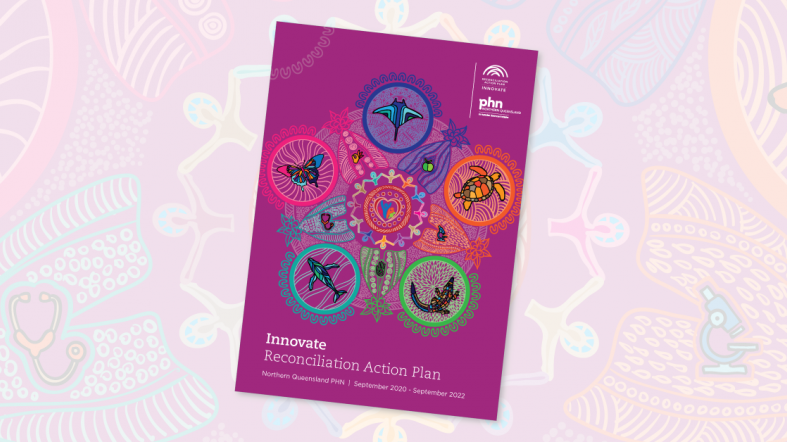 Northern Queensland Primary Health Network (NQPHN) has launched its Innovate Reconciliation Action Plan (RAP) to coincide with NAIDOC Week 2020 (8-15 November), marking an important step in the organisation's reconciliation journey.
The Innovate RAP, formally endorsed by Reconciliation Australia, is NQPHN's second RAP and outlines the organisation's strong commitment to improving the health and wellbeing of Aboriginal and Torres Strait Islander peoples throughout North Queensland.
NQPHN Board Chair Nick Loukas said the plan strongly advances the organisation's commitment to working with local Indigenous communities to close the gap in health inequalities.
"The Innovate RAP enables NQPHN to make aspirational and innovative commitments to help gain a deeper understanding of our sphere of influence and establish best practice approaches to advancing reconciliation," said Mr Loukas.
"We recognise that the considerable gap between Aboriginal and Torres Strait Islander peoples and fellow Australians in life expectancy and overall health outcomes is unacceptable, and this Plan is part of our commitment to reducing that gap.
"The RAP outlines key actions NQPHN will undertake to strengthen relationships with Aboriginal and Torres Strait Islander stakeholders and communities in our region, engage staff and stakeholders in reconciliation, and develop innovative strategies to empower First Nations peoples.
"NQPHN acknowledges that developing relationships and opportunities with Aboriginal and Torres Strait Islander peoples both internally and within communities builds a better understanding of the importance of culture and heritage."
The Indigenous artwork featured in the Innovate RAP was designed by award-winning Indigenous artist Luke Mallie as part of NQPHN's Reflect RAP, the first stage in NQPHN's reconciliation journey.
"The artwork, named the Indigenous Healing Mandala, recognises the importance of an inclusive and culturally-appropriate approach for NQPHN to work with local communities in achieving its vision of helping all northern Queenslanders to live happier, healthier, longer lives," said Mr Loukas.
"The combination of Aboriginal and Torres Strait Islander components throughout the artwork represents NQPHN's collaborative approach in strengthening its relationships with Aboriginal and Torres Strait Islander peoples and communities, and nurtures belief and purpose through healthy connections."
Mr Loukas said the Innovate RAP is both an opportunity and an invitation for NQPHN to expand its understanding of its core strengths and deepen its relationship with its community, sta­ff, and stakeholders.
"The Innovate RAP is a stage in our organisation's reconciliation journey where we understand the integral role we play in communities across North Queensland and create dynamic reconciliation outcomes that are supported by and aligned with NQPHN's core business objectives," Mr Loukas said.
"It is a major step in our reconciliation journey and is a key tool for NQPHN to walk together as we learn and grow on this continuous improvement path to build successive Plans for the future.
"The NQPHN Board is honoured to support this meaningful pathway toward reconciliation, inclusion, and to improve the wellbeing of our Aboriginal and Torres Strait Islander communities."
NQPHN joins over 1,100 dedicated corporate, government, and not-for-profit organisations that have formally committed to reconciliation through the RAP program since its inception in 2006.
Since 2006, RAPs have provided a framework for organisations to leverage their structures and diverse spheres of influence to support the national reconciliation movement.
NQPHN's Innovate Reconciliation Action Plan can be viewed in full here.
Last updated: 13 November 2020
Search form