Registrations now open for the Cairns and Hinterland Suicide Prevention Community Action Plan workshops
Published 18 November 2020
Are you part of a community organisation providing suicide prevention services? Are you a mental health professional or support worker? Or are you a first responder to suicidal crises?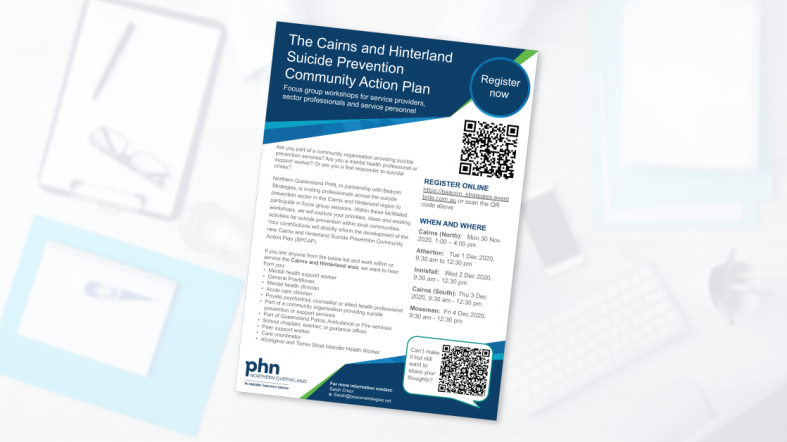 Northern Queensland PHN, in partnership with Beacon Strategies, is inviting professionals across the suicide prevention sector in the Cairns and Hinterland region to participate in focus group sessions. Within these facilitated workshops, we will explore your priorities, ideas and existing activities for suicide prevention within local communities.
Your contributions will directly inform the development of the new Cairns and Hinterland Suicide Prevention Community Action Plan (SPCAP).
If you are anyone from the below list and work within or service the Cairns and Hinterland area, we want to hear from you:
mental health support worker
general practitioner
mental health clinician
acute care clinician
private psychiatrist, counsellor, or allied health professional
part of a community organisation providing suicide
prevention or support services
part of Queensland Police, Ambulance, or Fire services
school chaplain, teacher, or guidance officer
peer support worker
care coordinator
Aboriginal and Torres Strait Islander Health Worker.
When and where
Cairns (north)
Monday 30 November 2020
1pm-4pm
Atherton
Tuesday 1 December 2020
9.30am-12.30pm
Innisfail
Wednesday 2 December 2020
9.30am-12.30pm
Cairns (south)
Thursday 3 December 2020
9.30am-12.30pm
Mossman
Friday 4 December 2020
9.30am-12.30pm
Register online here.
Download the flyer here.
Last updated: 18 November 2020
CONTACT US
Have your say
As part of our quality system, a feedback process has been introduced to enable us to better understand what we are doing well and what we can improve.
Search form