COVID-19 vaccine rollout
Northern Queensland PHN is supporting the Australian Government's COVID-19 vaccination program rollout, working closely with healthcare providers and all levels of government, as well as other key partners in health, to ensure a successful vaccine rollout across our region.
Latest COVID vaccine updates from NQPHN
The COVID-19 vaccination program is well underway in the Northern Queensland PHN region.
Everyone 5 years and over can now book an appointment for a COVID-19 vaccine.
To learn more about the vaccine rollout, COVID-19 vaccines and getting vaccinated, visit the Department of Health COVID-19 vaccine website.
To book a vaccine appointment, use the Department of Health Vaccine Clinic Finder.
+++++++++++++++++++++++++
Join COVID-19 Vaccination Program and/or administer multiple vaccines
If your practice wishes to participate in the COVID-19 Vaccination Program, or if you are an existing COVID-19 vaccinating practice and wish to administer multiple COVID-19 vaccines (AstraZeneca/Pfizer 12+/Pfizer 5-11years/Moderna/Novavax), please complete the Join COVID-19 Vaccination Program and/or administer multiple vaccines form.

Before completing the form, please review the COVID-19 Vaccination Program GP Onboarding Pack, which contains important information about the COVID-19 Vaccination Program.
Latest clinical information
Your local HealthPathways portal provides the latest information about the clinical aspects of COVID-19 vaccination, including advice, delivery, and follow up.
GPs are encouraged to check they have access to HealthPathways.
Access Northern Queensland PHN HealthPathways.
Don't have a login for HealthPathways? Register using the above link.
Adverse effects reporting 
In Queensland, health practitioners are required to report COVID-19 AEFI to Queensland Health which will report them to the Therapeutic Goods Administration (TGA) Medicines Regulation Division as well. 
Depending on the type of health provider, there are multiple ways for Adverse Events Following Immunisation (AEFI) for COVID-19 Vaccinations to be reported to Queensland Health. 
For further details visit the Queensland Health Adverse Event Following Immunisation (AEFI) page. 
Cold chain breach reporting 
Cold chain breaches of COVID-19 vaccines should be reported immediately to the Vaccination Operations Centre (VOC) on 1800 318 208. 
Record of vaccination 
People can access evidence of their COVID-19 vaccines in their immunisation history record through Medicare Online, myGov or the Express Plus Medicare app. 
Vaccination providers can also print an Immunisation History Statement (IHS) on behalf of their patient. 
Training 
The COVID-19 vaccination training modules, mandatory for all authorised COVID-19 vaccination providers, are online

The training is also available to non-clinical and administration staff who can access the non-clinical modules of the training such as handling, storage and administration. 
Northern Queensland PHN vaccination hubs
Vaccination hubs are open across the region accepting walk-ins requesting their first, second or booster dose of the COVID-19 vaccine.
Use the Queensland Health vaccine hub finder to locate a vaccination hub in your region.
Community pharmacies are also participating in the COVID-19 vaccine rollout and the concessional RAT program.
COVID-19 Vaccine Clinic Finder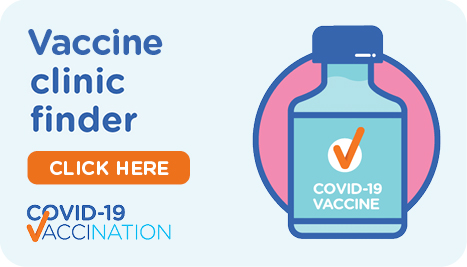 The COVID-19 Vaccine Clinic Finder is another way to book a vaccination.
Find a clinic near you that suits your needs by answering some simple questions.
You can use the Vaccine Clinic Finder to book for yourself, your children, or someone else.
Residential Aged Care Facilities (RACFs)
Northern Queensland Primary Health Network's (NQPHN) Vaccine Works campaign spotlighted the region's vaccinating general practices and pharmacies and focused on the primary care sector's highly-successful role in increasing COVID-19 vaccination rates in North Queensland.
Click on the locations below to read about the amazing work being done by local primary health providers to vaccinate our communities:
11 May 2022
Latest News
Read the latest news from NQPHN.
See all news